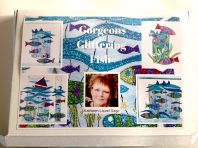 A project all collated in one box. Open it and off you go. Materials are included for you to make this unique hanging using general sewing techniques and free motion machine embroider. Experience working with glitter film to make your fish sparkle and shine before assemble them in a dimensional manner on top of and over hanging your panel. Finally try your hand at some simple bead embellishment to finish your gorgeous glittering fishy hanging.

Dolly Doodle is worked on to a background material and you are going to learn to draw in the details with your sewing machine using free motion stitching. She has many poses, skills and friends and is looking forward to helping you gain confidence as you work the design around and over her.
All materials are included to make several character cards, a small wall hanging or panel or a journal panel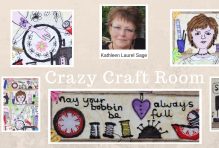 Crazy craft room project box with all materials, thread, pattern and full instructions included for you to settle down and create this whimsical free motion machine embroidered appliqué panel. Also includes charms and trims.