Dolly Doodle is worked on to a background material and you are going to learn to draw in the details with your sewing machine using free motion stitching. She has many poses, skills and friends and is looking forward to helping you gain confidence as you work the design around and over her.
All materials are included to make several character cards, a small wall hanging or panel or a journal panel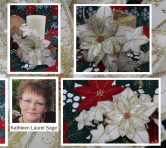 Fabulous festive flowers project box ready for you to open and settle down to make this gorgeous decoration. All materials and threads included with pattern and full instructions.
All you need is a sewing machine and general sewing equipment. You will make a layered flower edged in sparkling gold thread and learn how to wire it so that it can be shaped.  You will cover wire to make festive swirls and tendrils that will be incorporated within the flower assembly along with ribbons and a tie to enable you to attach it to a candle ( not included ) or a wreath or even decorate a festive bottle of bubbly or just admire as part of your festive ornamentation.
Sensational soldered mini journals project box will contain all materials to make several small journals. You will need a soldering iron to learn how to make marks and cut the flower shapes to make these little gems. Add a sprinkle of beads and sequins and a pretty ribbon to tie them together and your journal will be ready to gift or use yourself. Full instructions and flower templates included.